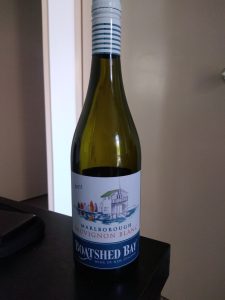 Well, it kind of worked out well being hacked.  I have started to find wines again that I might have passed on.  The Boatshed Bay Sauvignon Blanc is one of those wines.
Yes of course it's a New Zealand Marlborough region wine.  When it comes to Sauvignon Blanc it's a no-brainer.  You are assured of getting a decent white wine from anywhere in that region.  Just to add to that statement in 1986 it gained the title of Best Sauvignon in the World.
This was a Saturday afternoon barbecue with friends. So it was a nice safe pick.  Very typical fruity flavors throughout.  It went down over a few courses of typical barbecue meats and salads with crusty white bread.
I liked the wine in general but as a favorite Sauvignon Blanc, it's still the South Island sauv blanc that wins.  Would I try it again, sure?  Would I go out of the way to drink it again, not really.
I am now back to tasting wines for the blog.  I expect to move through the local bottle shops' wine selection.
About the Winery
The actual Boatshed Bay winery was only established in 1996 by Kim and Jeanette Goldwater.  Then got gobbled up by Foley Family Wines, which owns 24 Wineries across 4 Continents.
Boatshed Bay Sauvignon Blanc From The Bottle
Boatshed Bay embodies the life and color of the Marlborough Sounds on the South Island of New Zealand.  For many years we have proudly crafted wines from our picturesque vineyards of this region.  Bright and vibrant, our Sauvignon Blanc is full of tropical fruit aromas and flavors.
The Guff
Details: 12.0%  Alcohol, Screw Cab
Tasted:  September 2023
Best Drinking: A fantastic afternoon wine, with a few friends and a Barbecue.
Score: 15 /20
Region: Marlborough – New Zealand
Buy From: BWS

Comments: You can't go wrong with white wines from the Marlborough region in New Zealand.  The Boatshed Bay Sauvignon blanc is no different.  Add it to the list to try.  You won't be disappointed.
Category: Sauvignon Blanc