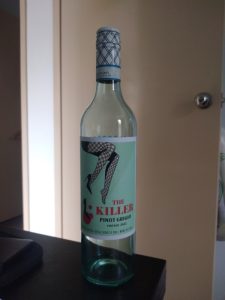 There is lots to say about The Killer Pinot Grigio 2022.  I've had it several times.  As I'm normally I am a fan of Sauvignon Blanc, The Killer Pinot Grigio really opened my eyes to the tastes of other white wines varietals.
As I was feeling brave I explored any chance I got.  The Killer Pinot Grigio 2022 is a nice wine that works best with food.  I find that it's a little harder and fuller than the run-of-the-mill Sauvignon Blanc that I am used to.
Those fuller wines work better for me anyway.
The great thing about this wine is it's from Italy and is priced very well in the Australian market.   It's a very refreshing white wine, with crips hints of pear and apple in it.
Even this is a bottle of wine from Italy.  It's actually bottled in Australia at Surry Hills in NSW.  Pinnacle Drinks is the company behind The Killer.
The Grape history
The Pinot Grigio is the grey grape member of the Pinot family.  Obviously, it's the grey tint of the skin that gives it that grey shade.
Whilst the grape is widely grown in Italy, it actually traced its lineage back to France.  Where it is more formally known as Pinot Gris.
From The Bottle
Wine of Italy
An unscrupulous rake. A brilliant bombshell.  A plot hatched, and the trap laid.  The double cross. The swindle.  The fall.  The killer takes all.
The Guff
Details: 12 %  Alcohol, Screw Cab
Tasted: Oct 2023
Best Drinking: The Pinot Grigio is not a bad drop.  With a unique taste when compared to a  Sauvignon Blanc, best suited with food.
Score: 16 /20
Region: Italy
Buy From: BWS

Comments: It's a nice drop, and works well with food.
Category: Pinot Grigio