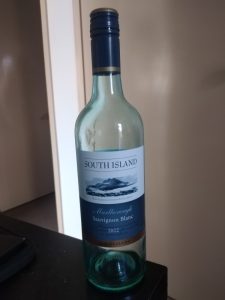 After being hacked again, welcome to the very first wine review of the 2022 South Island Sauvignon Blanc.  I need to get this out of the way upfront.  I believe that Sauvignon Blanc is Chardonnay's sexy cousin.
With that in mind, a long-standing favorite of mine is the South Island Sauvignon Blanc from the Marlborough region in New Zealand.
A wine like this is usually, a weekday special or a Saturday afternoon.   This time it was a weekday special.  Yes, I know drinking on a school night, I am a madman.  After a hard day in the office it it was off to the local bottle-o.
I always know what to expect when buying a favorite.  This little beauty didn't let me down.  To be honest any New Zealand white wine works, it is something that they do really well.
Sauvignon Blanc wine lovers will always recognize the fruit's light tangy flavors on their pallette. This was certainly no different for me.
This wine is best served chilled and enjoyed with any white meat, a fruit salad, and many Asian dishes, particularly seafood.
From The Bottle
The South Island of New Zealand is home to great wine-producing regions. Long sun-filled growing seasons and cool nights combine to produce the vibrant flavours.
South Island Sauvignon Blanc is zesty and vibrant with tropical fruit, kaffir life, lemongrass, and herb aromas flowing onto the palate with generous fruit, juicy acidity, and a fresh, dry finish.
The Guff
Details: 12.5%  Alcohol, Screw Cab
Tasted:  Too many times to count
Best Drinking: Works with pretty much any white meat…  Had this little beauty on its own though.
Score: 16 /20
Region: Marlborough – New Zealand
Buy From: BWS

Comments: A definite favorite of mind.  I would try again for sure.  It's recommended to add to your wine list.
Category: Sauvignon Blanc, White Wine