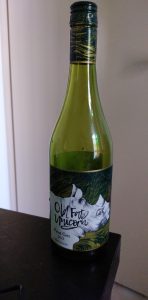 I always get excited looking for wine (yes sad I know).  It's a new wine that I've never tried or maybe a new grape.  Then sometimes it is all about the label.  When I see a bottle like Old Fart Unicorn Pinot Gris, you just know I am buying that.
Friday night at the local BWS.  I bought a Pinot Gris and a Chardonnay under the Old Fart Unicorn label.
As a self-confessed lover of Sauvignon Blanc, I think the Pinot Gris is a strong second.
The Old Fart Unicorn Pinot Gris was smooth and very well-balanced. The soft fruit and pear flavors weren't overpowering.  I actually found it very soft and offset the burning curry sensation I was feeling with the Massaman curry.
I actually should have bought two bottles.
About the Pinot Gris grape
The Pinot Gris is a white wine grape variety. Originally from France.  It's a mutation of pinot noir, pinot gris originated in Burgundy in the Middle Ages.
Some people will confuse the Pinot Grigio with the Pinot Gris.  They are actually the same grape variety named differently depending on the country of cultivation. In France, this grape is known as the Pinot Gris. In Italy, the variety is known as Pinot Grigio.
Gris is the French word for grey, as grigio is grey in Italian.  Grape varieties can be very confusing, but it is a fun fact you can bust out at your next weekend BBQ.
Old Fart Unicorn Pinot Gris From The Bottle
A wine with the pizzazz of a unicorn but the serious expression of a rhino, it will charge the palate with a surprising blend of tropical fruit and pear.  Dazzling not just to the eye but to every sense.
The Guff
Details: 12.0%  Alcohol, Screw Cab
Tasted:  October 2023
Best Drinking: A great wine, I had with a Chicken Massaman curry.
Score: 15.5 /20
Region: South Australia
Buy From: BWS

Comments: South Australia does some amazing reds.  Even though its a South Australian grape, it was bottled in NSW under license to Pinnacle drinks.  The South Australian white wines might be on the improvement, but I genuinely still liked it.
Category: Pinot Gris